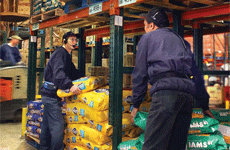 Voice technology involves uniting people, equipment and systems to increase accuracy, boost productivity and reduce operating costs. Since its introduction in the business world more than a decade ago, voice technology has proven itself in a wide variety of inventory-driven industries. Because of this emerging technology, distribution center operators are now able to interact directly with their warehouse management systems (WMS's) to perform a wide variety of key warehousing functions. Voice technology solutions have been installed in a number of industries including apparel, beverage, cold storage, consumer packaged goods, food service, grocery, medical/pharmaceutical and third-party logistics. The results reported by those that have deployed voice technology are compelling, as these companies have realized significant bottom-line impacts such as:
Productivity improvements of up to 35%

Increased accuracy rates of up to 99.99%

Reduced training time by 50%

Decreased employee turnover rates
Ant Technologies is a Vocollect partner, the world's leader in the field of voice identification systems. Since 1987, Vocollect has been developing Pick-by-Voice based voice solutions, which are widely used in warehousing logistics operations abroad to enhance warehousing operators' performance and warehouse productivity in general. Vocollect products are successfully used in more than 30 countries all over the world.
Vocollect Voice Product Range includes: