01.08.2022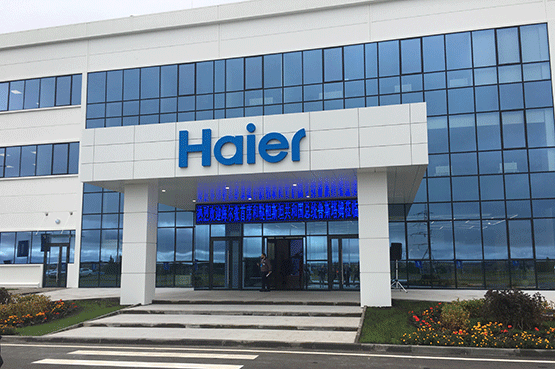 ANT Technologies has completed the first stage implementation of the WMS Logistics Vision Suite at the warehouse of the manufacturer high-tech household appliances Haier.
Haier has completed a project to optimize the storage of goods manufactured at the factory in Naberezhnye Chelny. This project is part of a program of automate the company's warehouse logistics and transfer warehouse operations to control by warehouse management system.
The main objective of the project is effective organization the management of the work of the warehouse for the storage of manufactured products. The WMS-system Logistics Vision Suite was choose as a solution for warehouse automation. The main criteria for choosing this software toolkit were the high flexibility and adaptability, capable of implementing all the tasks of a manufacturing enterprise.
WMS Logistics Vision Suite is a modern, efficient software that allows you to transfer all warehouse operations under her control. As a result, the work of the warehouse becomes transparent, "bottlenecks" are closed, the speed of acceptance, processing and shipment of products increases, and errors caused by the human factor are significantly reduced.
During the project, all warehouse operations were automated for support for various types and schemes of storing goods, the possibility of settling the warehouse was implemented, processes for processing surpluses, shortages, defects and returns were set up, an additional set of specialized reports. The ability to change the owner of the goods were configured. The unloading, receiving and shipping processes are supporting by photography from data collection terminals. This option allows conflict-free resolution of disputes.
The possibility of using serial numbers, marking products with two-dimensional QR codes and further mass reading in one scan has been implemented, due to which the processing time of products is significantly reduced.
The introduction of a warehouse management system allows Haier to establish a productive warehouse operation, optimize the use of warehouse space, and build efficient the staff work, and improve the quality of customer service.
"Using the modern technologies is an opportunity for the successful existence the company on the market and effective business development. We see that business must be ready for rapid and global changes. Logistics activities are characterized by complex and dynamic processes, often dependent on the human factor. WMS Logistics Vision Suite implementation is allow our partner to support the company's rapid development in the Russian market and reduce the time it takes to deliver equipment from the assembly line to the end user," comments Alexander Usov, General Director of ANT Technologies.