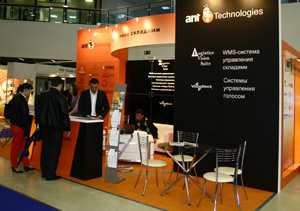 ant Technologies is a leader in the Russian market for management and optimization solutions for supply chains and warehouses. The company specializes in developing and implementing top-quality, comprehensive IT-based management solutions, combining versatile functionality, proven implementation methodologies and customizability.
Logistic Vision Suite, a world-class WMS exclusively promoted in the Russian market by ant Technologies, has already become very popular in Russia and a de-facto warehouse automation standard for many large-scale logistics service providers (3PL operators), including Eltransplus, DPD, V7sklad, MGL, STS Logistics, GLP, Smart Logistic Group, TBN Logistic, ABX Logistics and others.
ant Technologies offers the complete range of services, from consultations and pre-project studies to services designed to help choose and deliver specialty hardware and software to customer personnel training and technical support for its solutions.
Close co-operation with technology partners, including some international leaders such as IBM, Microsoft, Vocollect, Mantis International, Syncron, Motorola (Symbol Technologies), Zebra Technologies and others, enables ant Technologies to promptly adopt all latest technology innovations to the Russian market. After several years of successful operation, the company's clientele now includes many Russian and international majors.