29.09.2014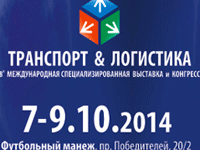 ant Technologies is a leading solution provider for supply chain of medium and large enterprises, supplier of special equipment for the effective management logistic, warehouse, retail and distributor enterprises, invites to the International Specialized Exhibition "Transport & Logistics 2014".
We will introduce the new version of WMS-system Logistics Vision Plus. WMS Logistics Vision Suite is a family of extended Supply Chain Execution software products, covers all major warehousing activities, such as reception merchandise, put - away, inventory management, counting, order fulfillment along with picking, checking, packing and shipping.
The work organization under management Logistics Vision Suite lets to increase the warehouse capacity, production efficiency by rising labor productivity employees, the effective application special equipment and the optimum use of warehousing space.
We will be glad to meet the exhibition participants on our place № A8.2
Over 125 companies from 15 countries of the world will participate in the "Transport & Logistics '2014" and "Logistics Engineering '2014" exhibitions. The participants of the exhibition will demonstrate all types of the state-of-the-art transportation systems and auxiliary equipment; technologies and equipment to design, build, repair and maintain various types of transport communications; shipping and passenger transportation services; supply chain management systems; information and support systems for transport means and logistics. Transport and logistics centers, international companies and ports will present their services.
Welcome to the Belarusian Transport Week on October 7-9, 2014 in Minsk, Republic of Belarus. http://www.tc.by/english/events/