22.03.2021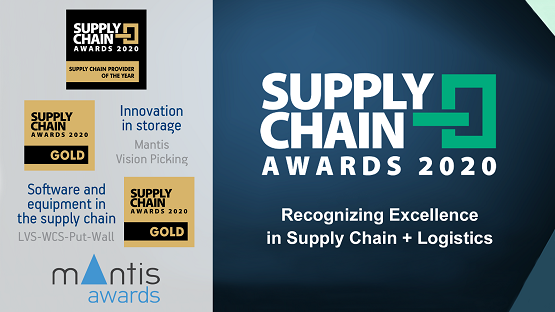 MANTIS is nominated as Supply Chain Provider of the Year 2020 by the jury of the Supply Chain Awards.
Supply Chain Awards are the only institution in Greece focusing on supply chain sector and totally recognized by the Logistics market. Supply Chain Awards manage to gather each year every innovational and state-of-the art project that reflect operational and business excellence.
Apart from gaining the title of the Supply Chain Provider of 2020, Mantis also won two Gold Awards, sealing its leading role in state-of-the-art technology applications in Logistics. MANTIS was awarded the highest distinction in the category "Innovation in Storage" for its initiative to focus on Innovation and its liaison with Human Factor / Man, offering the VVR solution. This solution combines 3 different technologies in Distribution Centers, achieving great flexibility and increased efficiency at a very competitive cost. Vision Picking + Voice Picking + RFID combine Smart Glasses or HUDS (Head-Up Displays), intelligent speech recognition algorithms with simultaneous adaptive noise cancellation and wearable RFID devices, resulting in spectacular benefits such as: reduced management up to 10%, large productivity increase achieved by the relaxed user experience thanks to the multi-modal dimension of the VVR (sight, hearing, movement), reduced maintenance costs, utilization of VVR capabilities to 100% since no equipment matching is required with a specific user, impressively easy and fast learning of new users etc.
With the Gold Award, however, Mantis was honored in the category "Software and equipment in the supply chain" and the application of technology LVS (Logistics Vision Suite) - WCS (Warehouse Control System) - Put to Wall in the Polish company X-KOM, the most branded chain of stores in electronic equipment. X-KOM also operates No1 in popularity e-shop of the industry in Poland. "Put to Wall" is ideal for e-commerce orders and for executing small B2B orders as well as large orders to replenish online stores, because it guarantees the fast and error-free collection of multiple orders collectively.
MANTIS is an international leader in the IT industry in Logistics with 9 subsidiaries and a presence in 30+ countries in Europe, North and South America, the Middle East, North Africa and Asia.