24.08.2020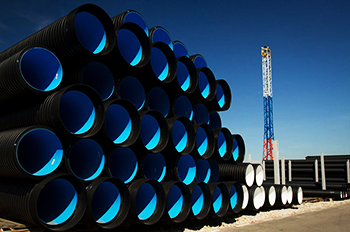 WMS Logistics Vision Suite was realized successfully at a warehouse of a large international producer of plastic pipes POLYPLASTIC Group.
The storage center of POLYPLASTIC Group consists of several platforms, comprising factory warehouse, sales warehouse, distribution center, responsible storage warehouse. It holds variety innovative plastic pipeline solutions for water supply, gas distribution, water disposal, district heating, agriculture, cable protection and industrial systems.
POLYPLASTIC Group faced numerous pressures to reduce costs but the existing technologies making it difficult to keep pace with growth and developed. Producer required a system with the sophistication and flexibility to increased efficiency, support company growth, improve visibility of stock, reduce damage products.
POLYPLASTIC Group made the decision to implement a warehouse management solution and selected Logistics Vision Suite, having reviewed a number of vendors in the Russian market. Logistics Vision Suite was remote implemented at low season without any physical interaction.
Warehouse was successfully launched by the project's teams collaboration in a short time without incidents.
POLYPLASTIC Group is a large international company with divisions in Russia, Belarus and Kazakhstan. Since 1991 company has developed and manufactured innovative plastic pipeline solutions for water supply, gas distribution, water disposal, district heating, agriculture, cable protection and industrial systems. http://en.polyplastic.ru/