21.10.2016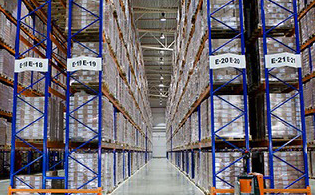 "Avesta Pharmaceutics" is the biggest supplier pharmaceutical goods in Russia. The broad branch network and big range of medical goods ensure a great demand and a wide range of customers.
"Avesta Pharmaceutics" was founded in 1997. Now company operates in the new warehouse with total area of 15000 m2. The choice of WMS-system was based on opportunity of maximum adaptation to tasks of pharmaceutical business.
The selected system Logistics Vision Suite is a complex WMS solution developed for large enterprises with high demands for logistics activity.
The project had to be realized for 4 months including harmonize technical requirements and WMS implementation.
Program setting was realized on base of specification, consequently was adapted the process of receiving, storing, picking, checking, packing and shipping.
On the line of the output control was implemented the control system of sorting and packing. This process is performed by using the "touch screen packing" system, where multi-plane scanners and video cameras for process recording are used .
Picking is performed with using Pick to Cart technologies. At the same time the picker can picking up to 18 orders.
Picking, packing and module "touch screen packing" were adapted by customer requirements, taking into account ergonomics, operating speed, labeling specifics and safety.
Adapted Logistics Vision Suite was integrated with accounting programme "Avesta Pharmaceutics"
The employees have visited training courses for instruction of working and administration Logistics Vision Suite.
The Head of IT Department "Avesta Pharmaceutics", Emil Airapetov, positively estimates Logistics Vision Suite implementation and results new warehouse operation. "Due to coordinated work of our team and ant Technologies project group we have launched new warehouse in target date. Logistics Vision Suite demonstrates good activity. We could increase speed of picking orders, reduce transaction costs and improve quality of work".