05.05.2009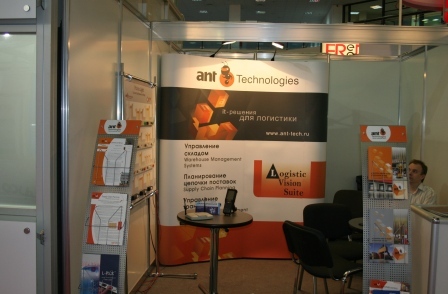 Ant Technologies took part in the 14th International Exhibition for Transport and Logistics "TransRussia-2009" which was held from April 21 to 24 in Expocentre at Krasnaya Presnya.
For a number of years TransRussia has been the key event for specialists of the industry demonstrating their products and services at the annual exhibition and conference. TransRussia has gained even more importance in current economic conditions, when the transport industry is on the brink of changes. This year 458 companies from 33 countries participated at the exhibition. As usual, a number of countries presented their expositions at national pavilions. They included Germany, Finland, Spain, Latvia, Lithuania and Estonia. The exhibition featured the largest Russian and international transportation carriers, ports and railways.
Apart from presentation of WMS Logistic Vision Suite, ant Technologies presented the new solution – LVS: Container Vision - Container Terminal Management System. During the TransRussia 2009 Exhibition, ant Technologies representatives gave many consultations and demonstrations of these systems. Growing interest to technological management optimization of warehouses and container terminals emphasize again the fact that today efficient logistics management and therefore competitive capacity are impossible without implementing specialized information systems.