15.07.2008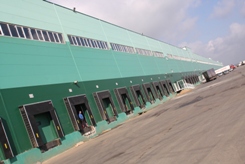 ant Technologies and Smart Logistic Group (SLG), a leading Russian supply-chain operator, have announced the successful completion of a comprehensive project to automate the SLG Domodedovo warehouse terminal by using the Logistic Vision Suite.
Smart Logistic Group ( www.slg.ru) offers the whole range of logistics and customs services (including customs clearance, safe custody, warehouse storage, electronic declaration, etc.) at Class A warehouse terminals in the Moscow Region and some of the largest cities in the Russian Federation. SLG is currently developing an integrated logistics system to link manufacturers and consumers in Russia, Europe, Southeast Asia and North America.
The SLG Domodedovo warehouse having a total area of 85,000 m2 and a capacity of more than 100,000 rack-stored europallets, which is located in Europe's largest manufacturing and logistics park North Domodedovo in the Moscow Region, is managed by a modern warehouse management system called Logistic Vision Suite. SLG has chosen the Logistic Vision Suite because had offered an integrated IT solution capable of fully meeting the supply-chain operator's requirements, including the deployment of hardware and software by a single contractor, easy adaptability to individual customer business requirements, a well-developed deployment methodology taking into account the specific features of 3PL warehouses, a system replication policy allowing quick deployment at new warehouses and technical support for the solution deployed.
As part of the project, ant Technologies has co-operated with Smart Logistic Group to deploy the core system Warehouse Vision, a component of the Logistic Vision Suite family, to automate all warehousing operations at SLG Domodedovo. One hundred user licenses have been provided for the software. Apart from the core system, ant Technologies has set up two additional modules: a billing module called Logistics Billing for monitoring customer payments and a module called Link Manager for quickly integrating the WMS with the operator's customer accounting systems. The project includes setting up an additional analysis and reporting module called Logistics Intelligence as a tool for consolidating reports, managing key process indicators (KPIs), providing input data for conducting a strategic analysis and providing real-time support for the decision-making system.
In addition to deploying the WMS, ant Technologies has also delivered and installed the required process equipment, including 53 Motorola (Symbol) data collection terminals, 6 Zebra Technologies industrial label printers, IBM server hardware and Fujitsu-Siemens workstations. The company has also successfully deployed a LAN and a Wi-Fi network at the warehouse complex.
ant Technologies' Training and Consulting Center has trained SLG warehouse and administrative employees in using the Logistic Vision Suite.
At present, all of the 30,000 product titles stored at the warehouse are integrated into Logistic Vision Suite. ant Technologies also makes efforts to gradually start handling the cargos of all of the customers in the WMS. Pepsi Bottling Group and a Coca-Cola distributor have become the first customers to be connected to Logistic Vision Suite.
With the deployment of Logistic Vision Suite, SLG will be able to meet the high standards and speed requirements for cargo storage and handling services, minimize both its own costs and those of the cargo owners and improve the management and monitoring efficiency of its staff.
ant Technologies and SLG are going to continue their co-operation to automate SLG's warehouse network across Russia. By the end of 2008, Smart Logistic Group plans to deploy Logistic Vision Suite at another two of its warehouses, in St. Petersburg (30,000 m2) and Ekaterinburg (22,000 m2).
About Smart Logistic Group:
Joint-Stock Company « Smart Logistic Group » (SLG) was created in July, 2007 by the shareholders of the corporation « Uniform international network of customs warehouses » (ЕМСТС) for realization of the scale network project under the same brand, on granting a full package of logistical services.
The purpose of the project - creation of complex logistical system which will connect manufacturers and consumers of Russia, Europe, countries of the Southeast Asia and Northern America. Within the framework of the project for the nearest five years it is planned to master about 500 thousand sq. meters of the warehouse areas of class "A", capacity up to 1.0 million pallet-places in the Russian cities with the population 1 million and more on strategic important transport directions of the country.