24.11.2020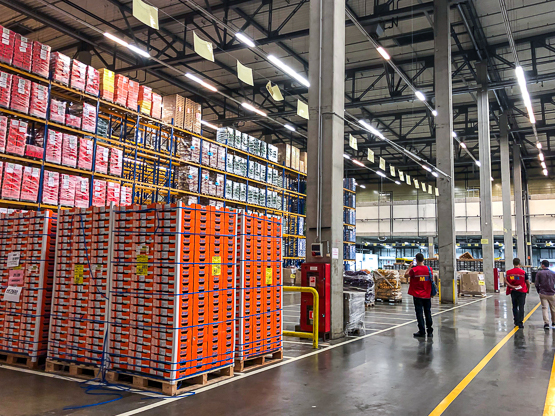 "MGL METRO GROUP LOGISTICS" is logistic services provider for Metro Group trade branches (shops METRO Cash & Carry, Media Markt), engaged in warehouse and platform management, freight handling, service rendering to the suppliers at reasonable prices. The goods range includes non-foods, dairy products, deep freeze products, fruits and vegetables. The company is also engaged in direct import of goods handled at the central import warehouse. The retailer's top-priority task in terms of logistics is due management of goods, information and cash flows in order to ensure timely delivery to the corresponding destination at minimal costs. The company reaches the stated aim via efficient supply chain. In order to optimize the logistic chain and raise the sales volume various delivery schemes to METRO distribution centers are used depending on the type of goods.
ant Technologies continues to meet its commitments to MGL and implemented WMS Logistics Vision Suit at the platform, having a huge previous experience in the similar projects.
The project team needed to implement the new modification of Logistics Vision Suite system at the platform take into account the specifics of warehousing processes and the type of handled products.
The platform operates by central stock rules were processed imported goods, so-called "dry" food and non-food products. The address storage was organized, areas for rack and floor storage are allocated. The warehouse is equipped with drive-in rack, planned to equip with shuttles.
Logistics Vision Suite truly demonstrates the flexible nature of the system. The peculiarities of setting WMS include to adapt program for specific requirements.
Picking products is organize by using Vocollect Voice, that up to a 20% increase productivity and reduce of picking errors, that improved picking procedures up 99,95%
"MGL METRO GROUP LOGISTICS" is the logistic services provider for trade branches of Metro Group (shops METRO Cash & Carry, Media Markt). Major activities: warehousing and transportation services. MGL complex is located at LC warehouses with the total floor area making 75 000 sq.m. and includes the cross-dock warehouses as well as the warehouses for full range of food and non-food products, deep freeze products, fruits and vegetables, fish and alcoholic beverages.